Recent Corporate
Presentations

• MasterCard
• Siemens
• Carpet One
• FloServe
• Hewlett-Packard
• PriceWaterhouseCoopers
• Sun Microsystems
• Kodak
---
View Boris' full Web site at:
www.borisbrott.com
---


Amazon.com
Top Selling
Classical Music
1. Obrigado Brazil - Sony
Performer - Yo-Yo Ma
2. Opera Arias - Deutsche Gramaphon
Composer - Wolfgang Amadeus Mozart, Hector Berlioz, et al Performer - Anna Netrebko
3. Romanza - Polygram Records
Composer - Lucio Quarantotto Performer - Andrea Bocelli
4. The # 1 Opera Album - Polygram Records
Composer - Giacomo Verdi, et al
Conductor - Richard Bonyge, Herbert van Karajan, et al
5. The Most Relaxing Classical Album in the World...Ever! - Virgin Records
Composer - Johann Sebastian Bach, LŽo Delibes, et al
Conductors - Neville Mariner, David Willcocks, et al
6. Messiah (Complete Traditional) - Sparrow/EMD -
Handel, London Philharmonic Orchestra, Allidies
7. 25 Classical Favorites - Vox (Classical)
Composer - Alexander Pervomaysky, Guimor Noveas
Conductors: Phillip Gibson, Jonel Perlea, et al
8. Andrea Bocelli / Sacred Arias / Myun Whung Chong - Polygram Records
Performer - Andrea Bocelli
9. Time to Say Goodbye - Angel Records
Performer - Sarah Brightman
10. Cieli de Toscana - Universal
Performer - Andrea Bocelli
---


1973
• The U.S. halted (Jan. 15) bombing attacks on North Vietnam less than a month after massive Christmas air raids on Hanoi.
• Richard Nixon began (Jan. 21) his second term as President. The cost of the Inaugural Ball was $4 million—compared to $4 a couple for the nation's first such event, James Madison's, in 1809.
• The White House disclosed (Nov. 21) the existence of an 18-minute gap in the tape of a Nixon-Haldeman conversation.
• In sports news, the Miami Dolphins defeated the Washington Redskins to win Super Bowl VII; the American League adopted a rule allowing the designated hitter; Billie Jean King defeated Bobby Rigs in straight sets in a nationally televised match; and the Oakland Athletics defeated the New York Mets in seven games to win the World Series.
• Gore Vidal's Burr topped the list of best-selling fiction.
• On stage, three notable revivals were produced: A Streetcar Named Desire, A Moon for the Misbegotten; and The Pajama Game.
• The Exorcist grossed $88.5 million, followed by The Sting (which was named Best Picture) at $79 million.
• CBS produced (Feb. 11) Duke Ellington....We Love You Madly, and all-star tribute to the musician; the nation watched (May 15 - Nov. 15) pooled live coverage by all three networks and PBS taped highlights of the Watergate hearings. All in the Family was the most watched show for the third consecutive year.
• Roberta Flack's Killing Me Softy with His Song won Record of the Year, and Best Female Performance. Stevie Wonder's You Are the Sunshine of My Life took Best Male Vocal Performance.
• Best-selling songs of the year included You're So Vain, Carly Simon; Superstition, Stevie Wonder; Crocodile Rock, Elton John; The Night the Lights Went Out in Georgia, Viki Lawrence; Tie a Yellow Ribbon 'Round the Ole Oak Tree, Dawn.
Inside the Conductor's Mind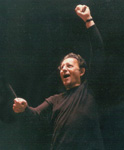 We asked Boris Brott, some questions about personal preferences, music he cherishes, his favorite opera, and if he's ever snoozed at the podium, etc.
1. Pet peeve? People who do not answer messages and E-mail correspondence.
2. Does he play an instrument? Violin, Viola and French Horn, but not in public any more—not enough time to practice!
3. Instrument he wishes he could play? Organ—it's like an orchestra, but fully under your own control!
4. Perfect day off? Every day is a day off! I love my work, but I also love to be on our island in the Muskokas [Canada] working on the land.
5. Favorite piece of art? Monet—Water lilies.
6. Favorite electronic device? Cell phone.
7. Favorite things to watch on TV? Programs on Discovery Channel, law programs.
8. Morning routine? None—every morning is different! That's what I love about my life!
9. Food he couldn't live without? Smelly Cheeses—St. Andre.
10. Secret talent? Plumbing—I do a lot of our own plumbing at the cottage.
11. Has he ever fallen asleep at a concert? Actually—almost, and on the podium! I had done a matinee performance and unusually was also conducting the evening performance with the Royal Ballet in England. We were performing "Les Sylphides," not the most dramatic of scores! There are scene changes between the numbers and one was taking just a bit longer than normal. I leaned back against the wall of the orchestra pit and closed my eyes for just a moment. The next moment I remember I had the concertmaster's bow gently nudging my shoulder!
12. First piece of music he fell in love with? Brahms First Symphony. I was apparently listening in my crib and liked to blurt out "OSO BOLO" every time I heard the Oboe solo.
13. Fantasy career? Medicine. I believe the practice of medicine is art as well as science, and feel that I have an instinctive diagnostic sixth sense. I like to serve as a volunteer in medical organizations.
14. Favorite thing to cook? Coquille St. Jacques.
15. Where he listens to music? At rehearsals and concerts and in my head while studying scores.
16. Favorite indulgence? French sauces.
17. What he can't travel without? My cell phone and laptop computer.
18. Fitness routine? It isn't a routine but I like to walk. Should do it every day and in the summer, I swam a lot between islands at our cottage.
19. Recent gift he received? Leonard Bernstein's red handkerchief. A particularly prized possession—he was my mentor.
20. Favorite book? My wife's first novel "Sedna's Tattoo."
21. The most underrated composer? Frederick Delius.
22. Favorite classical artist? Too many to select one!
23. Favorite pop artist? Not qualified to make a judgment.
24. Car he drives? Audi Avant Quattro.
25. Last gadget he bought? Exercise equipment.
26. Favorite quote? "Those who can, do; those who cannot, teach; those who cannot do either, criticize." - GB Shaw
27. Opera he'd most like to sing? Puccini La Boheme.
28. Recurring nightmare? I'm in the wrong city and I'm supposed to be conducting a performance there in five minutes!
29. Last time he cried at a performance? I always cry at the end of La Boheme, even when I am conducting!
Here's What Boris Can Do for You:
Speak about Leadership and Teamwork
Develop a customized script for each meeting
"Conduct" the audience using any number of musical tone bars
Involve the meeting's executive in conducting
Conduct a live, 12-piece orchestra during his presentation. The orchestra can also be used for walk-in music and other special effects on stage
Host or co-host meetings
Can speak/host in English, Spanish, French, German, Italian
"Playing Together"
Thousands of people across corporate America have heard Boris Brott's interactive presentation — he draw comparisons between business organizations and symphony orchestras. Both have common goals, each must perform in harmony to achieve those goals, and each continually strives for perfection. Often, both attempt to be innovative and creative.

Boris draws out the juxtaposition of teamwork and leadership the need for creativity within an organization; the joy of communication and the achievement of success. All are explored through the medium of music.

During his 25-minute presentation, these analogies are enhanced with slides and video. The audience hears of Beethoven's struggle, his quest for perfection...brief passages from some of Beethoven's best known works. Then, it's time to play together...

Boris instructs the audience to reach under their chairs where they will find a tonebar — a musical instrument with a mallet. The audience has been divided into five specific notes. After "rehearsing" and enjoying the levity and excitement, the audience is prepared to play Beethoven's Ode to Joy. Boris turns to the video screen, gives a signal, and a full symphony orchestra begins to play. At the appropriate point, he turns to the audience and "conducts" them in this informative, educational, and fun-filled presentation. The audience is thrilled to be playing a significant part and to make music under the direction of a symphony conductor. Audiences and corporate executives find it a memorable and unique presentation.
Variations on "Playing Together"
| | |
| --- | --- |
| • | A live orchestra joins Boris on stage. Musicians and their instruments are introduced. A short musical example is played. This is repeated until an 11-piece orchestra is formed on stage. |
| • | The meetings host joins Boris in conducting the audience and/or explaining the similarities between their organization and a symphony orchestra. |
| • | Each script is tailored to suit the meeting's theme, or message. |
| • | Specific concepts germane to the organization are brought out in the script. |
| • | The presentation's length is suited to the requirements of the program. |
| • | Mr. Brott can act as host through the duration of the meeting. |
New Alternate Presentation
In addition to the "Playing Together" presentation, the following other concept can be presented to your audiences:
"Lighting the Creative Flame"
Creativity rests in all our souls. This presentation demonstrates five steps that are at the heart of every creative process. Boris interacts with "Professor Siegfried" on screen, and together they take the audience through the steps necessary to concoct anything from E=MC2 to an enlightened business plan to the perfect Christmas party.

This is an interactive presentation involving the meeting's host as well as the audience. But the heart of the piece rests with Boris and Professor Siegfried taking the steps necessary to "light the creative flame." After each step, Boris "conducts" the audience playing their tone bars, and concludes his presentation with a soaring rendition of the music from Star Wars.
Boris Brott is one of the most internationally recognized Canadian conductors, holding major posts as music director in Canada and the United States. He enjoys an international career as guest conductor, educator, motivational speaker and cultural ambassador. In Canada, he has developed no less than six Canadian Orchestras: Thunder Bay Symphony, Regina Symphony, Kitchener-Waterloo Symphony, CBC Winnipeg, Symphony Nova Scotia, and most notably - the Hamilton Philharmonic, where Mr. Brott was Music Director from 1969 to 1990.
He was Artistic Advisor and Founder to the newly created Symphony Nova Scotia from 1984 to 1989. Boris Brott has a commitment to the development of new audiences and young artists. Internationally, Mr. Brott has served as Assistant Conductor to the New York Philharmonic under Leonard Bernstein, and as Music Director and Conductor for the Royal Ballet, Covent Garden (two years), and Northern Sinfonia (five years), and the BBC Welsh Symphony (seven years). In addition, he has guest-conducted in Mexico, the United States, South America, Central America, France, Germany, Great Britain, Italy, Scandinavia, Japan, Korea, Israel, the Netherlands and most recently performed Bernstein's Mass, for Pope John Paul II at the Vatican.
He has won prizes in major international competitions: the Pan American Conductors Prize in Mexico, the Liverpool Conductors Competition in Great Britain, and Dimitri Mitropoulos International Conductors Competition in New York. In 1987, Mr. Brott was awarded Canada's highest civic honor, Officer of the Order of Canada. He founded Brott Music Festivals in 1988. He is also Conductor and Music Director of the New West Symphony, California, and Artistic Director of Symphonia Canada, as well as Conductor of the McGill Chamber Orchestra in Montreal.